Overview
TVM Signalling and Transportation Systems Pvt. Ltd. (TSTS) is a Bengaluru, India based Signalling Service Provider, in its 13th year of operations, with 450+ strong professionals, having a total revenue of about Rs.1,400 Crores since inception, with 1,500+ person years of services provided to Railways worldwide.
TSTS is a group company of 100+ year old Japanese major Kyosan Electric Manufacturing Co. Ltd. (Kyosan). TSTS is headquartered in Bengaluru, with 5 branch offices and 37 site offices in India, and 1 branch office in Bangladesh and 1 branch office in Australia.
The core focus of TSTS is in the areas of Signalling, including Signal Engineering Services; Supply, Design, Testing and Commissioning of Computer-based Interlocking System (CENELEC SIL-4 Certified); Selection, Supply, and Installation of COTS Products and Services; Development, Interfacing, and Deployment of Train Management System (TMS) and Centralized Traffic Control Systems (CTC); and Verification and Validation, and Advisory for RAMS (Reliability, Availability, Maintainability, and Safety) of Hardware and Software.
TSTS is ISO 9001:2015, and CMMi Level 3 Dev Quality certified, ISO 45001 (Occupational Health & Safety) compliant, and is in the process of getting certified for ISO 27001 (Information Security) and ISO 27701 (Privacy Information Management / GDPR). In addition, TSTS is a proud owner of CENELEC SIL-2 certified software, "Safe Control and Indication for Interlocking (SCIXL), which, along with the inhouse developed "Visual Display Unit (VDU) Software for Interlocking (IXL)", are currently being used with Computer-based Interlocking equipment of OEMs.
TSTS is an equal opportunity employer, and is conscious of its obligations provide equality, diversity, and inclusivity at the workplace, in addition to actively supporting the society as part of the corporate social responsibility. TSTS prides itself as an ethical business house, and the two aspects of the tagline "Innovation and Safety" are a way of life at TSTS. It is a process-based organization, and continuously engages with its stakeholders to have continual improvement of the process, by evaluating at multiple levels and stages. With the advantage of cost, skills, experience, quality certifications, customer & industry recognition, and investment potential, TSTS is ideally suited to work in several focus areas across the globe, in collaboration with partners, for a mutually beneficial, long-term relationship.
The following are the Highlights of work that was performed by TSTS :
The following are the Highlights of work that was performed by TSTS:

Delivered services in India, Bangladesh, Malaysia, South Africa, the UK, the US, Japan, and Australia
Trusted partner for various OEMs in providing the necessary Solution Engineering at the time of deployment as value added services, and for end-to-end execution of signalling projects
TSTS was the first company to introduce Object Controller concept in South-East Asia
800+ Interlocking commissioning over the last 10 years
500+ individual systems have been commissioned with Computer-based Interlocking Systems
Executed Brown-field and Green-field projects
Have extensive experience in interfacing with several sub-systems
Executed projects in Dual-shore/site and Offshore/site models, in Turnkey, Fixed Cost, or Time and Material (T&M) contract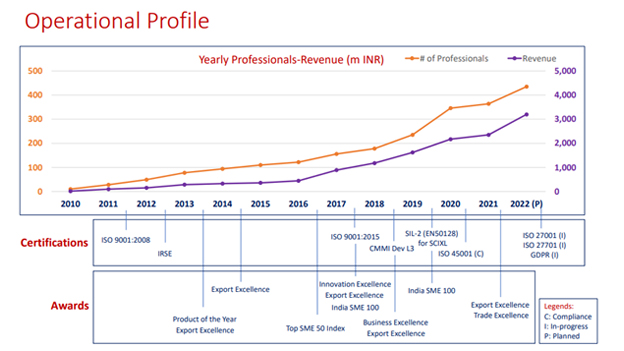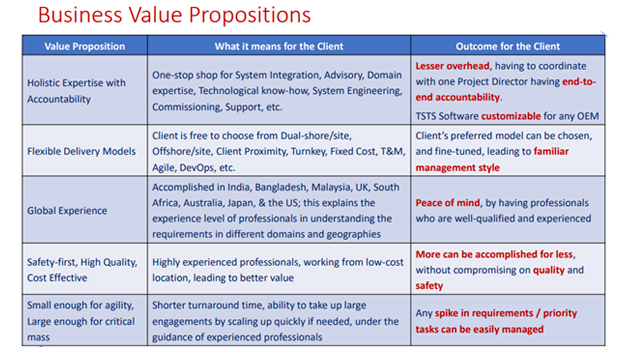 Vision
To be the leader in providing cost-effective, innovative technologies and solutions to the Railway signaling and Transportation Industry around the globe
Mission
We, at TSTS, are committed to provide safety systems and quality outcomes to customers, add value to all our stakeholders and better lifestyle to employees
Quality Policy
We, at TSTS, are committed to
Deliver innovative and safety solutions to our customers
Provide excellent working environment to our employees, to improve performance standards and productivity
Comply with legal requirements
Add value to all our stakeholders
OHSE Policy
We, at TSTS, are committed to
Provide safe and healthy working environment to all personnel working for and in the organization
Prevent the work related injury, ill health & pollution
Eliminate work related hazards and reduce OH&S risks
Comply with legal and other requirements
Continually improve the condition of the environment in which the organization operates
Continually improve the safety of the personnel working for and in the organization with the participation and consultation of employee
Monitor and achieve continual improvement by a structured documented approach
Values
Integrity and Objectivity
Customer Satisfaction with Innovative Solutions of Superior Quality and Safety
Respect and add value to all Stakeholders
Safe, Secure, and Inclusive Workplace
Technological and Financial Strength
Responsibility towards Society, Environment, and Neighborhood
Culture
Safety at all times and places
Integrity, Ownership, & Accountability
Open and free work environment
Inclusivity and Diversity
Innovation (safety, quality, productivity, & performance)
Health & Wellness
Family Connect
Innovation
TSTS has a culture of innovation, as can be observed right from its tagline. Each staff member is encouraged to voice any suggestions and improvements in any process, product, service, or potential business opportunity. This ranges from incremental innovation to Intellectual Property registration. Every input is taken, and is analyzed for its suitability, cost-benefit analysis, timing, etc., and is taken up for implementation based on priority. The owner of the idea is invited to participate in the process, thereby the passion for that initiative can be spread in the team, along with a sense of satisfaction to work on new initiatives, that provides a rewarding experience.
Customer Speak
Konkan Railway: "… It is appreciated that excellent efforts were made by the team of TSTS to commission the stations in spite of the challenges posed by the Covid-19 Pandemic …"
North Western Railway: "… With full dedication and excellent efforts made by TSTS team, the target has been achieved. It is really appreciated, in view of excellence in quality and dedication …"
South Western Railway: "… It is appreciated that excellent efforts were made by TSTS team to complete the project in all aspects. …"
Central Railway: "… Technical expertise, sincerity, and commitment of TSTS team, sensitivity to customer's requirements …"
??: "… Dedicated and highly skilled team, customer friendly and responsive …"
??: "…Staff, Engineers, Quality, Cooperation, etc. all are very good …"
Kyosan: "… Good design team equipped with automated design tool, timely supply, excellent testing and commissioning support, project management, are very good …"
Southern Railway: "… Prompt response and action …"
Konkan Railway: "… Positive approach and core technical team …"
South Central Railway: "…Completed the work on time and very good response …"
Kyosan: "…Engineering knowhow and talented people …"
South Western Railway: "… We appreciate the innovative solution …"
South Central Railway: "… High standards of quality work. The team showed exemplary professionalism, crisis handling and project management skills. The complex and highly safety-oriented work was executed in a very meticulous manner showing commitment and quality consciousness …"
MGB Engineering, UK: "… No errors, please pass on my thanks to the designers. Happy about the quality of delivery …"
Benefits
Employee benefits are defined as indirect or non-cash benefits given to employees above and beyond their regular salary. We at TSTS also provide a wide range of benefits to our employees which are at par with industry in order to attract, retain and engage the best employees in the organization. The details are as follows:
Retirement Benefits like Employee Provident Fund, Pension Scheme and Gratuity as per Acts
Five working days a week with semi flexible working hours and paid time off
Paid Leaves which include Maternity, Paternity, Adoption and Bereavement leaves
Health Insurance Plans like Group Mediclaim policy for Self, Spouse, Children and Parents/In-Laws, Group Personal Accident and Group Term Life Policy for Self
Employee assistance programs like Education allowances to children of Technicians and Interest Free Loan for employees dealing with personal emergencies
Professional Development programmers like Higher education and certification policy, Leadership, Japanese Language and soft skill Training Programmers
Career Development
Due to the nature of the work being performed which involves public safety, TSTS views and expects all professionals to be aligned with the latest trends in the industry. To that effect, the organization provides regular training in the following areas :
Domain Knowledge
Emerging Technologies
Leadership Development
Customer Engagement
Process
At TSTS, contribution of every single individual is valued equally, and hence every single person is adequately cared for, whether it is their safety, wellness, or career. The extraordinary value creators are rewarded regularly in the following categories :
Innovation Excellence
Performance Excellence (multiple categories)
Project Completion / Milestones
Performance Bonus
Referral Bonus
Instant / Ad-hoc Recognitions
TSTS provides opportunities in Engineering, Technology, Management, and Business Development domains. We build a workplace that is safe, inclusive, and one where the professionals are free to voice their thoughts for the collective growth of the organization.
Community Speak
Kidwai Memorial Institute of Oncology: "… I would like to place on record our grateful thanks to you for donating … towards purchase of instruments and … towards Patient Welfare Fund …"
The Akshaya Patra Foundation: "… We sincerely thank TSTS for supporting the mid-day meal programme by donating food distribution vehicle …"
Kidwai Memorial Institute of Oncology: "…Certification of Appreciation awarded to TSTS in appreciation of the devoted services rendered towards the promotion of Voluntary Blood Donation Programme …"
Rotary Bangalore Metro: "… sincere gratitude for the CSR support of converting Govt. School at Shanbhoganahalli, Anekal Taluk, Bangalore to a 'Happy School'"
PM Cares Fund: "… gratitude for the thoughtful and compassionate gesture on your part. The valuable contribution will greatly help India in fighting distress situations …"
Tamil Nadu Medical Officers' Association: "… Donation towards Gaja relief activities… Thank you for your generosity. We appreciate your support …"
Annai Theresa Matriculation School: "… School building construction … We thank you for your support and cooperation … "
Award and Certification